¿Que es OpenVAS?
OpenVAS (Explorador del gravamen de la vulnerabilidad de OpenSource), previamente GNessUs, es a GLP bifurcación del Nessus explorador de la seguridad para no prohibir a futuro el desarrollo libre de la herramienta ahora-propietaria.
OpenVAS fue propuesto originalmente cerca pentesters en Seguridad de la computadora de Portcullis y entonces anunciado por Tim Brown encendidoSlashdot. OpenVAS es un proyecto del miembro de Software en el interés público[1]. Previamente, había sido votado hacia fuera porque el proyecto aparecía ser muerto.[2] Los dominios de OpenVAS fueron donados por SecuritySpace, el recibimiento fue donado por la Nth dimensión/el Internet público y los honorarios de conferencia de DevCon 1 eran pagados para cerca Intevation y Sistemas del DN.
Añadimos el repositorio
echo "deb http://download.opensuse.org/repositories/security:/OpenVAS:/UNSTABLE:/v5/Debian_6.0/ ./" >> /etc/apt/sources.list
Añadimos la Key
apt-key adv --keyserver hkp://keys.gnupg.net --recv-keys BED1E87979EAFD54
Actualizamos
apt-get update
Instalamos
apt-get -y install greenbone-security-assistant gsd openvas-cli openvas-manager openvas-scanner openvas-administrator sqlite3 xsltproc texlive-latex-base texlive-latex-extra texlive-latex-recommended htmldoc install alien rpm nsis fakeroot
Creamos los certificados
test -e /var/lib/openvas/CA/cacert.pem || openvas-mkcert -q
openvas-nvt-sync
test -e /var/lib/openvas/users/om || openvas-mkcert-client -n om -i
Creamos el usuario
openvas-adduser

Using /var/tmp as a temporary file holder.

Add a new openvasd user
———————————

Login : rokitoh
Authentication (pass/cert) [pass] :
Login password :
Login password (again) :

User rules
—————
openvasd has a rules system which allows you to restrict the hosts that gabriel has the right to test.
For instance, you may want him to be able to scan his own host only.

Please see the openvas-adduser(8) man page for the rules syntax.

Enter the rules for this user, and hit ctrl-D once you are done:
(the user can have an empty rules set)

Login : rokitoh
Password : ***********

Rules :

Is that ok? (y/n) [y] y
user added.
Paramos openvas
/etc/init.d/openvas-manager stop
/etc/init.d/openvas-scanner stop
Cargamos todos los plugins
openvassd
openvasmd --migrate
openvasmd --rebuild
Matamos todos los procesos de openvas
killall openvassd
Iniciamos nuevamente
/etc/init.d/openvas-scanner start
/etc/init.d/openvas-manager start
/etc/init.d/openvas-administrator restart
/etc/init.d/greenbone-security-assistant restart
Iniciar OpenVas desde navegador (dependiendo el navegador que useis):
iceweasel https://127.0.0.1:9392
firefox https://127.0.0.1:9392
chrome https://127.0.0.1:9392
P.D: Ami con chrome no me inicia sesión…nose porque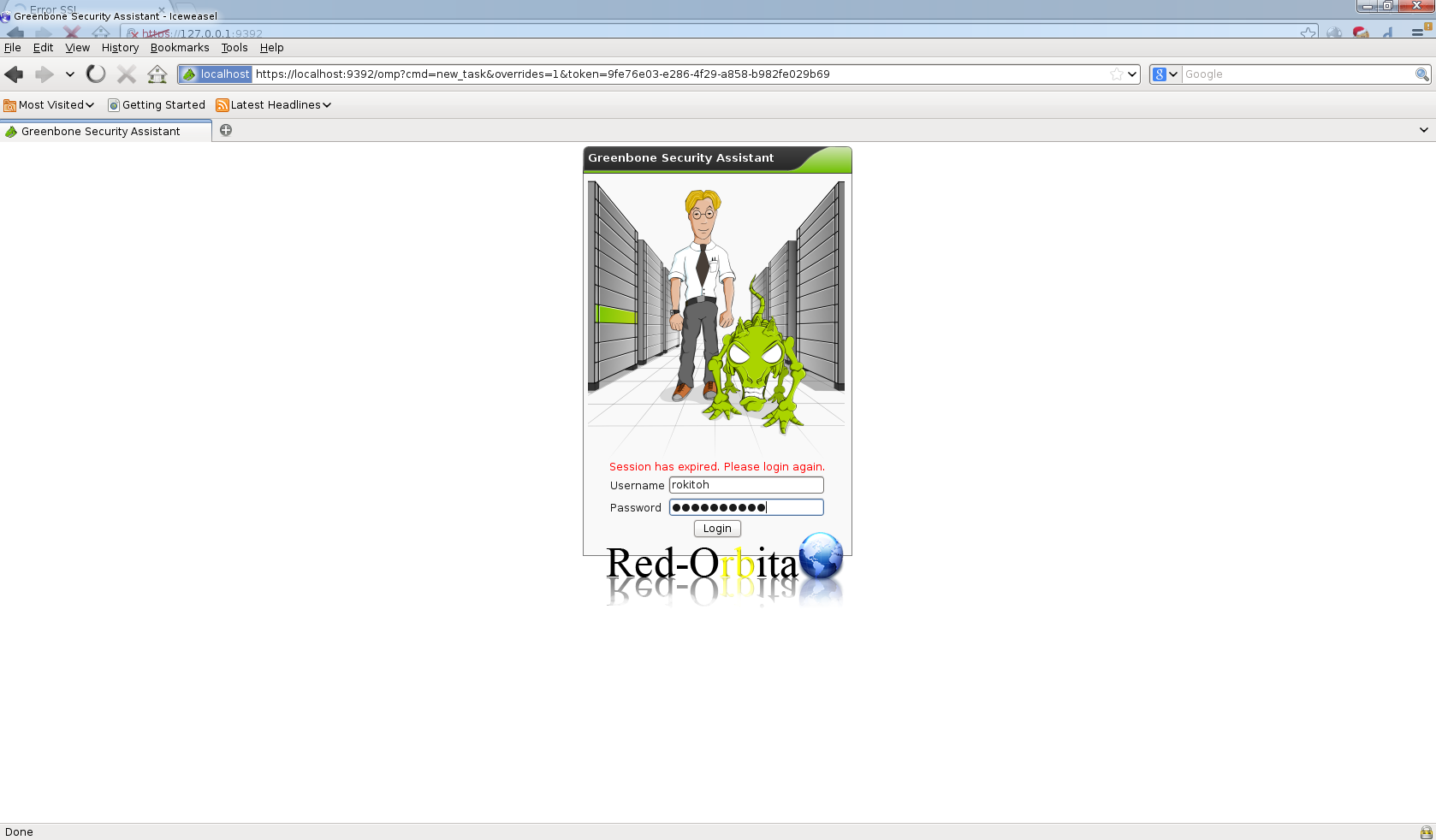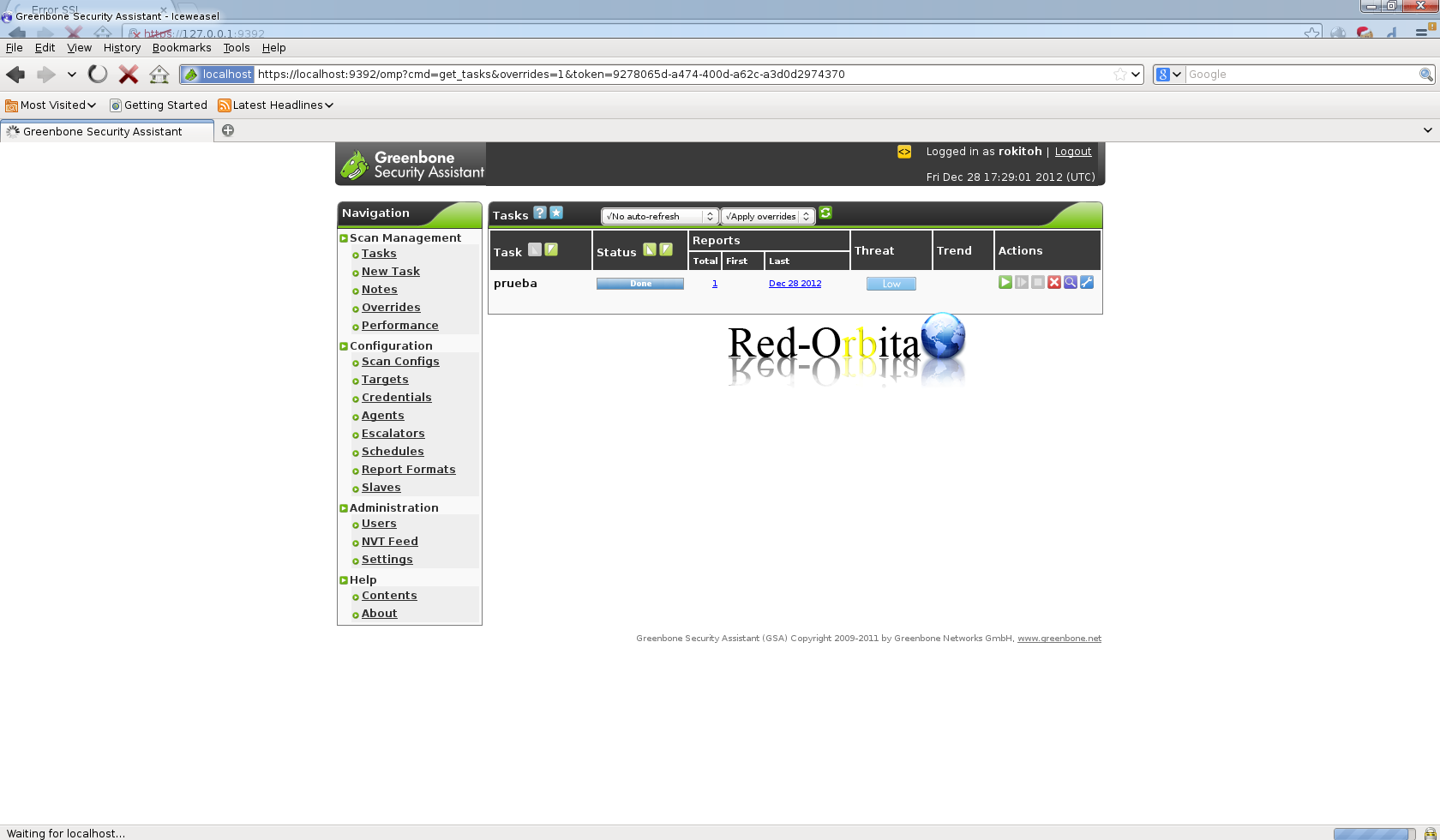 Nos mostrara la siguiente panel el cual nos tendremos que logar con el usuario creado.
Iniciar OpenVas desde la aplicación:
Ejeutamos desde un terminal
rokitoh@red-orbita: # gsd
Nos mostrara la siguiente consola: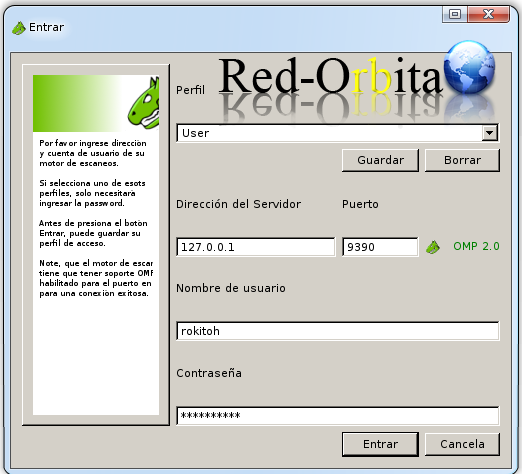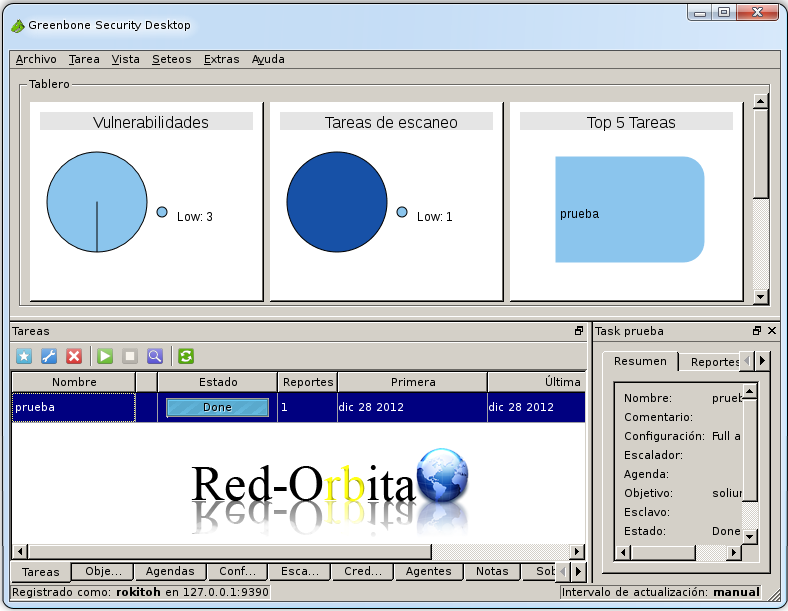 Una vez logados crearemos un destino (Target) donde lanzar las pruebas, puede ser un nombre de dominio, un rango o una dirección IP.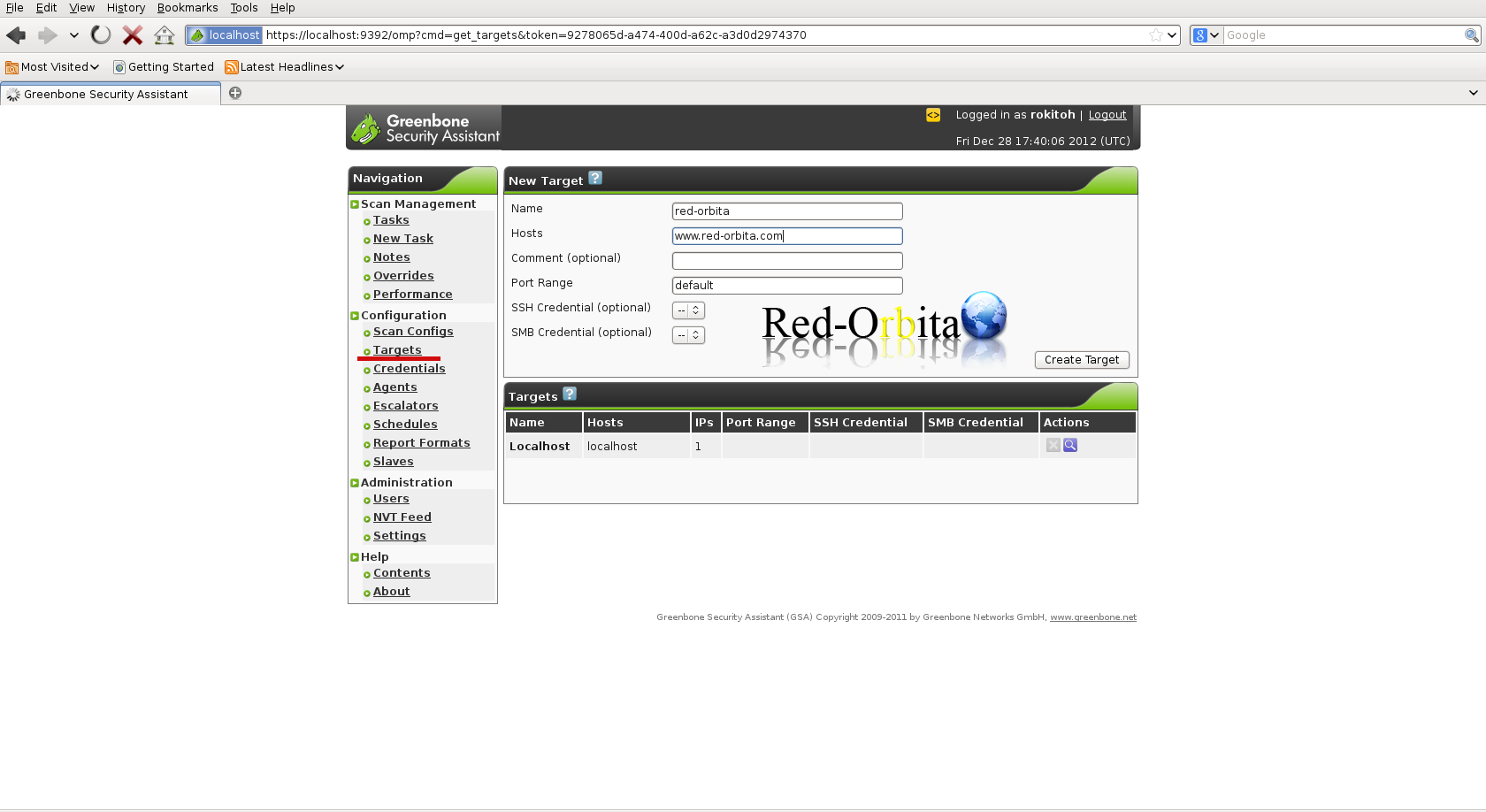 Pasamos a New Task, donde, elegimos un nombre, perfil de scaneo y destino (El cual vamos a elegir el que hemos creado red-orbita)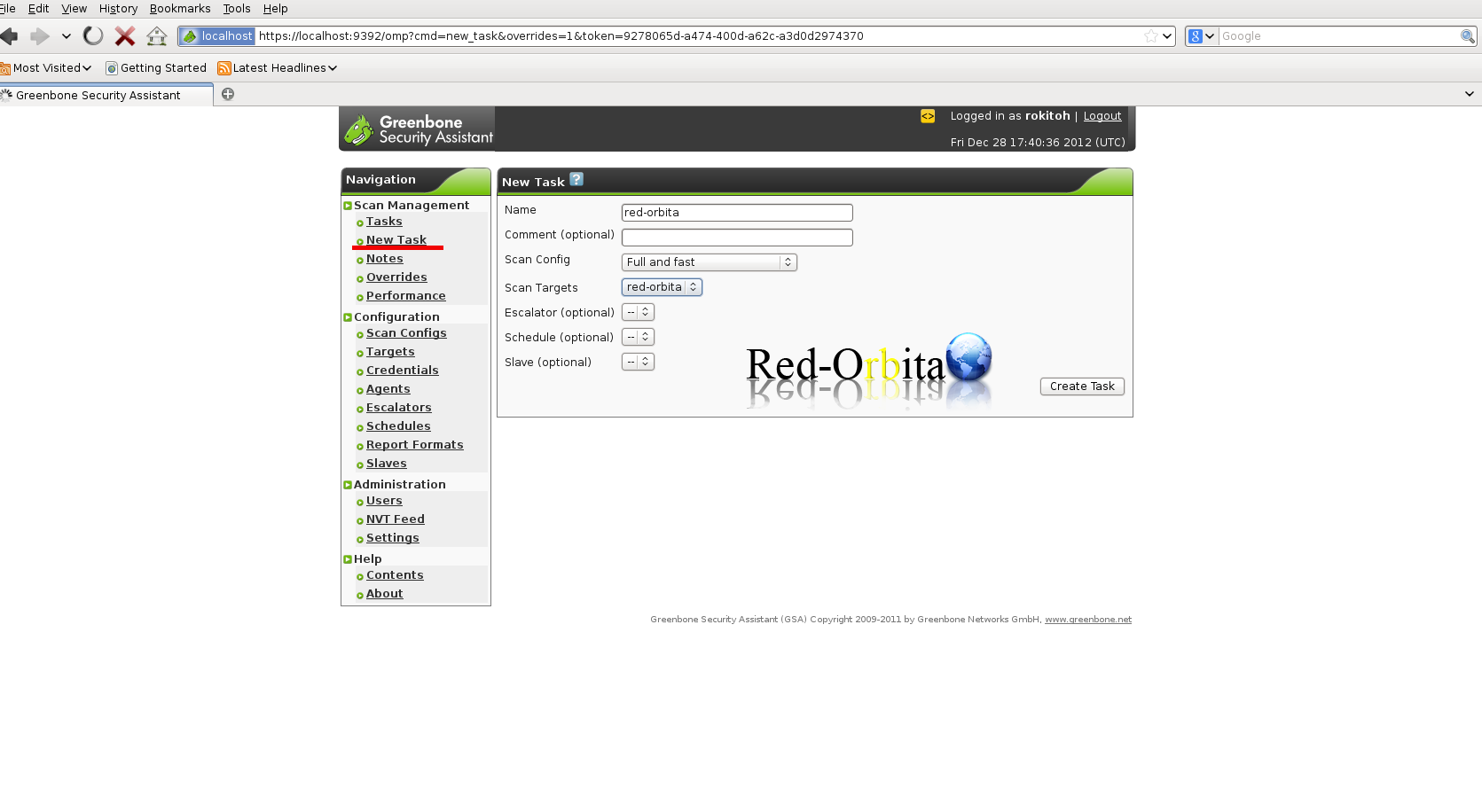 Una vez creado nos redirige Task, donde podemos iniciar, editar, parar y borrar la tarea que hemos creado para escanear.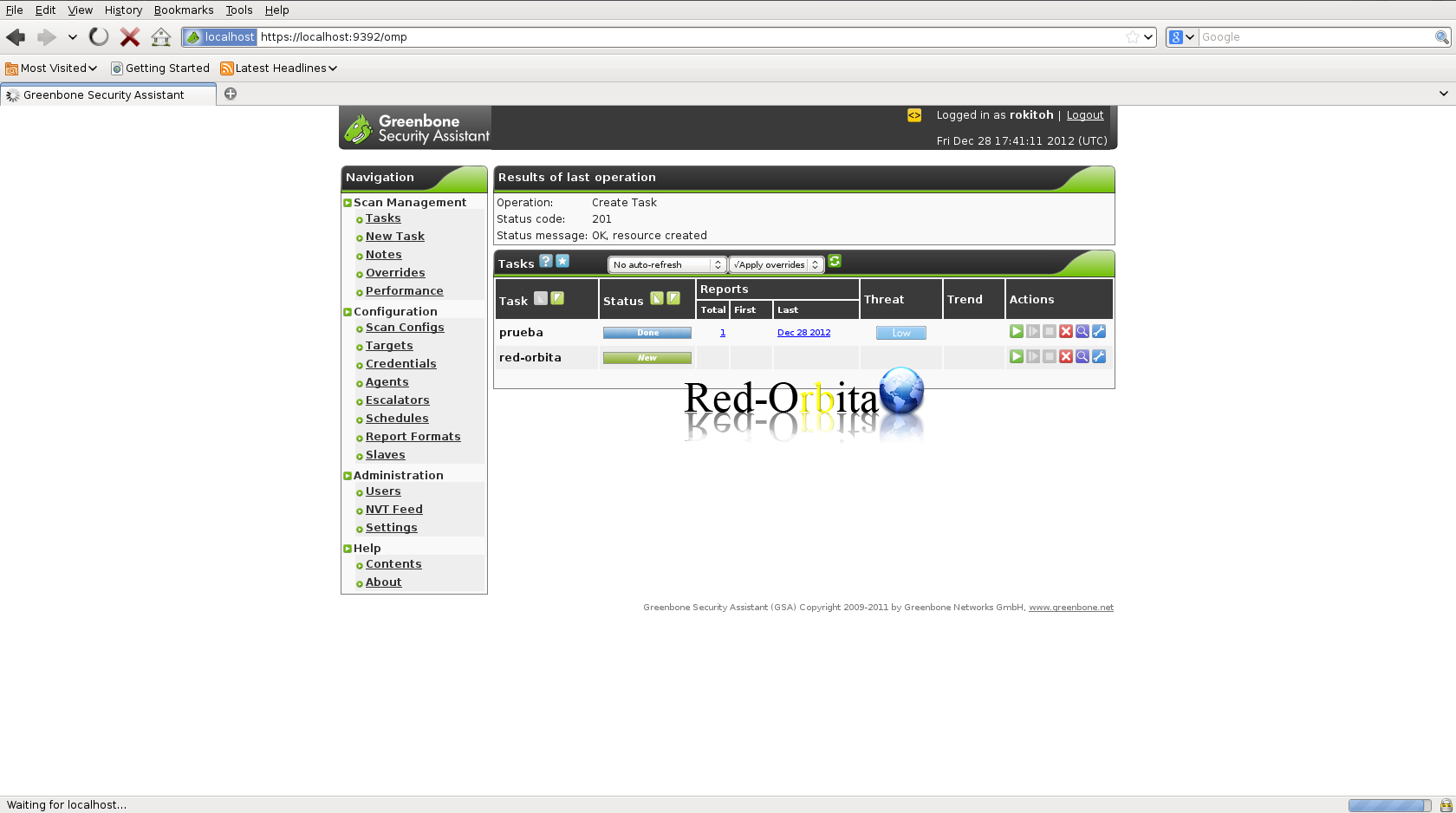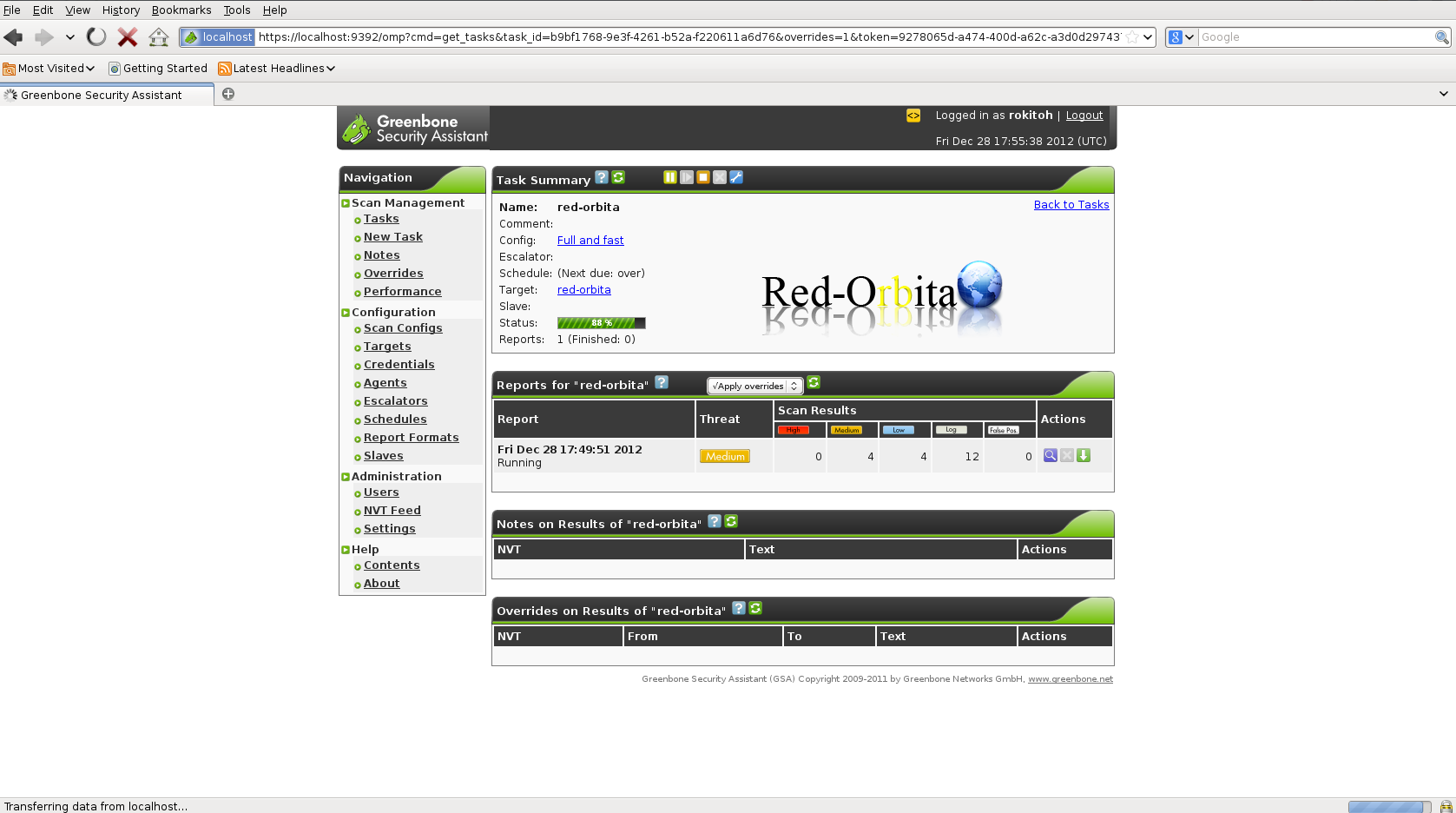 Desde la consola  gsd es exactamente igual, así que no tiene perdida.
Un saludo, rokitoh.
:wq!